Responsive Web Design Services in Birmingham | Web Designers
Responsive Web Design
Nowadays, we live in a world full of technologies, where people love to do almost all of their activities over their responsive gadgets.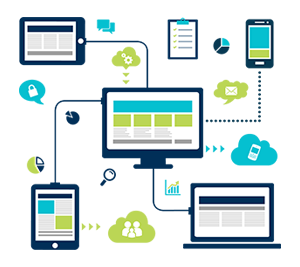 A responsive website is an advanced technology in which the website can fit any size screen. It allows visitors to flexibly access your website from android mobiles, iPhones, tablets, almost every device. It saves time as well as money by not developing multiple websites for each new gadget that is introduced in the market.
Our team of experts, fully understand the market demand, client's need, we will help you take your online business to next advanced level. We will provide you with a high-quality responsive website, which is impressive to look at and user-friendly with interactive interface, to attract more customers.
A responsive website consists of flexible grids and layouts that change automatically to suit the device. In responsive web design, a user need not zoom or scroll the page to go through the content, which makes website performer and user-friendly to provide best quality browsing experience.
Contact us today for an extraordinary responsive website for your business.